Welcome to the Ylvis Wikia
!
This is a wiki for the Norwegian musical comedy duo Ylvis and their work. Like an online 
encyclopedia if you like. You can find the main pages on the toolbar on top. At the bottom of some of the pages, you can find "Related pages", or simply by searching for a page in the search bar. This wiki has taken months to create, and we hope you enjoy exploring it just as much as we enjoyed creating it. 
This is a fan-created wiki. It is not supervised, endorsed by or affiliated with Ylvis or their management.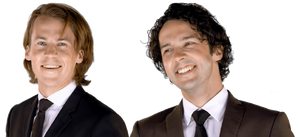 You can click on the two pictures above, and you will be directed to their profile page. There you can read more about Bård and Vegard.
Do you want to help create content for the Ylvis Wikia?
If you want to contribute to this wiki site, you can. I've made a guide on how to edit a page, add text, images, links and more. Please read the guide before you edit a page. 
Edit Guide
Youtube Accounts
Here are the three main Ylvis Video accounts on Youtube: