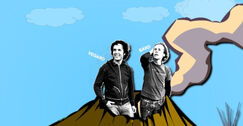 O-fag is a radio show that aired on NRK P3 in the summer of 2006, and again in the summer of 2008. Bård and Vegard Ylvisåker were the hosts of the show, and they had frequent guests. O-fag stands for "Orienteringsfag", a course at primary school in Norway which consisted of the subjects of Science, Geography, Social Science and History, all in one course. The course was removed from the curriculum in 1996-1997.
O-fag 2006 had several regular segments, including Oppgave med straff (Task with punishment) 1002 Fantastiske Facts, Confusing News with Brynjar Kvam and a Morse code course. Ylvis decided who would host each episode with a stein-saks-papir (rock-paper-scissors) competition. They also did a lot of musical improv based on suggestions from listeners.
O-fag 2008 also had several regular segments, including a Samish language course, the side effects of Ibux (Ibuprofen), sex advice from Big Boy Vidar, prank calls to the Netherlands and Paranormal Corner.
Listen to O-fag Episodes
O-fag episodes were released as podcasts, and you can find them on the NRK Radio website.
English translations with subtitles can be found on these YouTube channels:
Season 2 (2008) - smashingpumpernickels' playlist